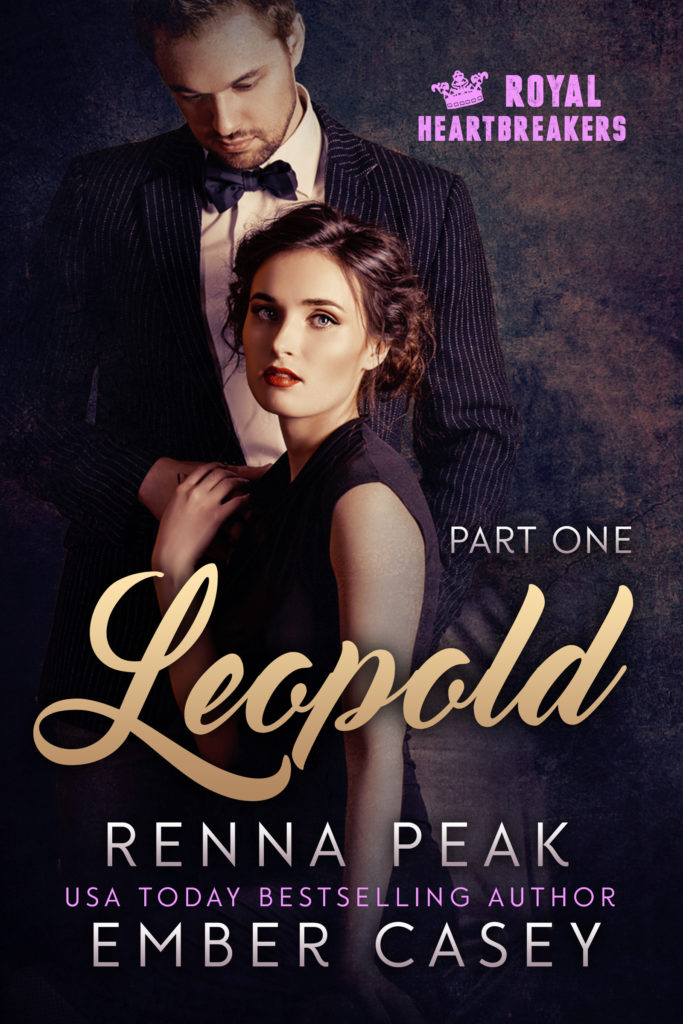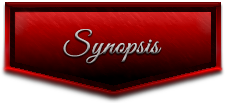 When I accidentally wished for my own Prince Charming, I never expected him to actually show up. Not here in South America–not at the crappy charity clinic where I work.
But life never is as simple as making a wish—and while Prince Leopold is definitely charming, he's also cocky. And arrogant. And a huge playboy. He's everything I've promised myself I'd stay away from.
So why can't I seem to resist him?
There's no way Prince Leo is actually interested in a normal girl like me. No way he'll ever be able to overcome his womanizing ways to be the prince of my dreams. And the more time I spend with him, it's clear he has almost as many secrets as me.
I'm only sure of one thing—if I give him what he wants, he's going to break my heart.
This is Part One of a six-part contemporary romance serial by bestselling authors Renna Peak and Ember Casey.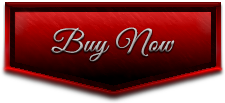 Amazon US I Amazon UK I B&N I iBooks I Kobo I Google Play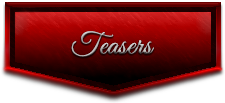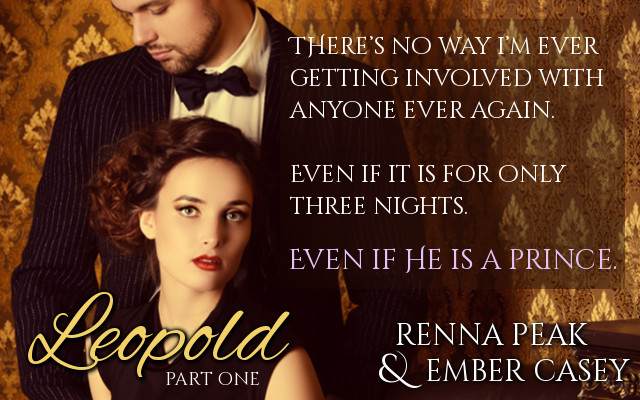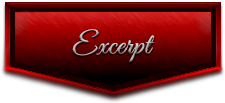 "Don't do this," she whispers, shaking her head.
"Do what?" I ask, my voice just as soft.
"This."
Her hands are braced against my chest, and I'm acutely aware of every single one of her fingers. I want to tighten my arms around her. To pull her snugly against my chest and whisper soft things into her hair. I want to do other things, too—my cock is definitely responding to her nearness—but I restrain myself on all counts. The rain continues to beat down overhead, and another rumble of thunder makes the window shake.
"Why shouldn't we do this?" I ask her softly.
I'm close enough to smell her hair, and the scent is heavenly—like summer and fresh air and something distinctly feminine. It seems unlikely that Elle wears perfume, so this scent is entirely her, and it takes every ounce of will in my body not to lean my face down and inhale deeply.
She takes a deep breath as if composing herself. If the lights were on, I'd tilt her face up toward mine so I could see the expression in her eyes—but then again, if the lights were on, she wouldn't be in my arms now.
"I don't do this," she says. "And I certainly don't do it with men like you."
"Like me?"
"Princes," she says. "Or with men I've only known for two days. I hardly know you. You hardly know me. I don't care if you say I'm not a diversion. We're still basically strangers. And you're here to oversee my work, which makes you practically my boss—which makes this inappropriate." She takes another deep breath and rushes on. "You're also my patient—and you've had a head injury, which means you should be lying down."
"Well, if you'd prefer to go back to the gurney—"
"You need to refrain from all activity. Anything that increases your heart rate is absolutely out of the question."
I smile, though she can't see it. "I'm afraid it's too late for that."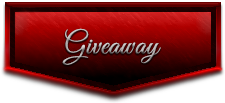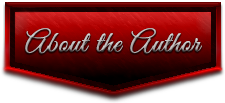 Ember Casey
Ember Casey is a USA Today bestselling author living in Atlanta, Georgia in a den of iniquity (or so she likes to tell people). When she's not writing steamy romances, you can find her whipping up baked goods (usually of the chocolate variety), traveling (her bucket list is infinite), or generally causing trouble (because somebody has to do it).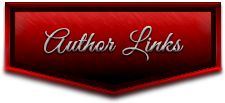 Renna Peak
Renna Peak is a contemporary romance author living in Spokane, Washington. When she's not scheming her next plot twist, she enjoys gardening, paper crafts, collecting office supplies (she has a major colored-pen problem), and hanging out with her four children.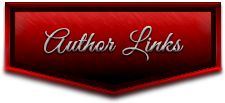 Royal Heartbreakers Series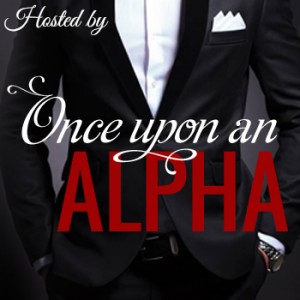 Blurb
Derrick Nash knows the pain of loss. But is he seeking justice or revenge over his loss? He doesn't care as long as someone pays the price.
It is Casey Collin's duty at FEMA to help those in need when a natural disaster strikes. After a tornado hits Honeywell, she finds there are more problems than just storm damage. Will she follow company procedures or her heart?
Can Derrick move forward without the answers he's been searching for? Can Casey teach him how to trust again? Or will she need to face the fact that not every story has a happy ending?
Purchase Links
Jeannette was born into a big family in northern Rhode Island, where
she still makes her home. Deciding against following her mother's
footsteps, she raised a single – and wonderful! – son. By day she
works in marketing, and by night she writes steamy romances.
She loves visiting historical monuments with good friends and family,
and comes home to the best dogs in the world.
Always My Girl
by Samantha Chase
Series: The Shaughnessy Brothers, #3
Genre: Contemporary Romance
Release Date: July 5, 2016
Sometimes the love that's closest to you is the hardest to see.
Quinn Shaughnessy's two older brothers have found their true loves … but Quinn's not about to join that parade. Nope, as he tells his best friend Anna, there's a lot more to life than getting tied down to one person. He's positive tomboy Anna will be on his side – except she's inexplicably developing other interests – even dating! Suddenly Quinn is seeing Anna in a very different light.
Quinn has been Anna's buddy since they were both five years old. She can tell him anything – except the one big secret she's been hiding for years – that she's fallen in love with him. Now Anna is determined to make a life for herself that doesn't include pining for Quinn. Falling in love with your best friend? Easy. Telling them how you really feel? Impossible.
Quinn reached out and tugged her away from the car before she could sit. "Dan who?"
"Dan Michaels. From high school. Remember him?"
Quinn thought for a moment. "Pretty boy. Played baseball with me junior year. When did you see him?"
"Tonight. That's who I was with earlier. He's looking at the Stanley's place on the beach. The house is like a damn showplace—like something out of a magazine!—and if I can convince him to buy it, the commission will go a long way in giving me some breathing space. Now with this car thing? I need it more than ever."
"So you dressed up for him in hopes of enticing him to buy?"
"What?" she cried with disbelief. This time she shoved at his chest with both hands. "What is the matter with you? What the hell have I ever done to you to make you be such a complete ass to me?" They were both breathing hard as they glared at one another.
Quinn cursed under his breath and stormed back into the shop through the garage. Anna quickly followed. It wasn't an easy task in the dress and heels – which she cursed the entire time. She found him in his office, throwing the rag down on the desk.
"Hey," she snapped, slamming the office door closed behind her. "I asked you a question. Quinn's blue eyes flashed with fire as he looked at her. Anna had seen that look before, normally directed at other people. It was the first time she was on the receiving end of it and she wasn't sure if it scared her or just served to make her madder.
"Oh, yeah? Well I asked you one earlier and you didn't answer. I guess we're even." Crossing his arms over his chest, he waited her out – a smug expression on his face.
"Seriously? Are we really going there? The whole I'm rubber, you're glue thing? Aren't we getting too old for this crap?" And then the fight started to leave her. This wasn't getting her anywhere. The man clearly had an issue with her that he wasn't going to share and she was just tired of the whole thing. "You know what? Never mind. Just…never mind," she said wearily and turned to open the office door and leave.
"Did you kiss him?" he called after her and waited until she turned around and looked at him. "Did you kiss him, too?"
Slowly Anna stepped back into the office and looked at Quinn as if he'd lost his mind. "Are you high or something? Kiss him? Kiss who? Could you please explain to me what the heck you're talking about?" She was completely confused by the turn in the conversation. Did he think she'd kissed Jake? She hadn't even been out on a date in what felt like forever, so what was he even referring to?
He moved in close and kept going until Anna's back was against the wall. "Is that your new thing? Just kissing guys to pass the time?" Quinn's breathing was ragged as he looked down into Anna's wide eyes.
"I don't know what you're talking about. I…I haven't kissed anyone," she said shakily as her tongue came out to moisten her suddenly dry lips.
"You kissed me."
Those brown eyes got impossibly wider as she softly gasped. "No I didn't."
Wait…did I? Was that not a dream the other night?
"Yeah, you did," he said lowly. "You fell asleep on the couch and then I carried you to bed and you kissed me."
She shook her head no, unable to find her voice. But even as she tried to deny it, the image came to her mind that she would have sworn had just been a dream. Not that she was going to share that bit of information with Quinn.
He continued to watch her, his eyes never leaving hers. "Yes. You. Did."
"I…I don't believe you," she stammered, wishing like hell she could just escape and die of embarrassment.
"Let me remind you," he growled fiercely as he closed the distance between them so they were pressed together from head to toe. His hand reached up and anchored itself around her nape as his mouth crashed down on hers.
Book One: Made For Us
Book Two: Love Walks In
Available December 6, 2016 – Pre-Order Now!
Book 4: This Is Our Song
New York Times and USA Today Bestseller/contemporary romance writer Samantha Chase released her debut novel, Jordan's Return, in November 2011. Although she waited until she was in her 40's to publish for the first time, writing has been a lifelong passion. Her motivation to take that step was her students: teaching creative writing to elementary age students all the way up through high school and encouraging those students to follow their writing dreams gave Samantha the confidence to take that step as well.
With twenty-three titles currently to her name, she has no plans to slow down. The success of the Montgomery Brothers series has her working on six new titles in that collection as well as two new exciting series set to start popping up on bookshelves in 2015. You won't find her books with the erotica or paranormal titles, all of her works are pure contemporary romances.
When she's not working on a new story, she spends her time reading contemporary romances, blogging, playing way too many games of Scrabble on Facebook and spending time with her husband of 25 years and their two sons in North Carolina.